For islands of the Eastern Aegean and Western Turkey
Mike Taylor, long-time friend and supporter of Chios Nature, has been working for over a year to put together a checklist of the flora of Chios, Oinousses, Psara, Samos, Lesvos, Ikaria and Western Turkey (Zone B1, west of Izmir, see white areas on map). Drawing on his personal observations on Chios, his connections with professional botanists, particularly John Edmondson and Jeremy Ison, and his researches based on a range of authoritative scientific studies, he has combined information that will undoubtedly be a useful tool for the interested amateur and the professional alike.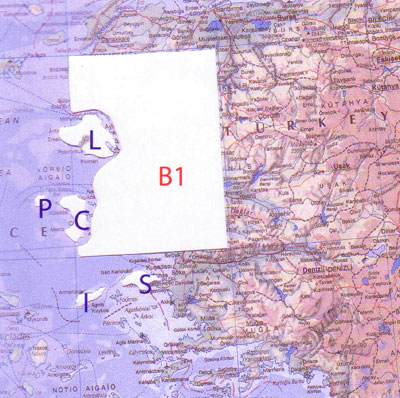 Chios Nature is delighted to be the vehicle through which this list can be freely accessed, used and indeed interacted with. Notes about the way the Checklist operates and is set up are here. Mike invites all those wishing to comment on or contribute to the checklist to contact him directly at this email address: . Mike is especially keen for "gaps" to be filled and would welcome your input.
Chios Nature does not have the specialist knowledge to enter into discussions concerning identifications or taxonomy, so we do request that messages concerning the Checklist should not be sent to us. Mike Taylor will be updating the Checklist and providing us with the latest version to post as it becomes available. He aims to do this at least once a year – or more often if there are enough significant alterations / additions to be made.